NEW Davidoff Signature Series!
The Davidoff Signature series represents Iconic Refinement by marrying the Classic and Millennium Series. Timeless and elegant in every sense, the Signature blend allows fresh floral scents to mingle with earthy, woody notes, revealing a hint of sweetness that leaves a characteristically clean and creamy aftertaste. Having stood the test of time the Signature series represents the very essence of time beautifully filled.
NEW Davidoff Yamasa!
Introducing Davidoff Yamasa, a cigar 20 years in the making. A region untapped, with ideal climate, soil rich in minerals but lacking pH count. Henke and his team would further enrich the soil, raising the pH levels suitable for growing tobacco.
This exciting cigar presents the aficionado with an appetizing appearance, in color, shine and oiliness. Davidoff Yamasa immediately introduces notes of spice, leading to notes of nut, coffee, cedar wood, earth and black pepper. The elegant, aged Dominican filler tobaccos, the strong Yamasa binder and sophisticated Yamasa wrapper, complimented by the sweetnessof the Condega and spiciness of the Esteli filler tobaccos. All of this combined perfectly to provide an entirely new, stimulating taste experience.
My Father Garcia y Garcia
Offered at less than 100 accounts across the U.S., Heroes & Legacies is honored to welcome this incredible cigar to our humidor!
The Garcia & Garcia boasts the combination of a Habano Rosado wrapper, Nicaraguan Criollo 98 binder and Nicaraguan filler that includes the ultra-rare and exceptional Pelo de Oro, resulting in an extraordinary cigar.
Classified as three-quarter to full bodied, it will surely leave a lasting impression on the palate of every smoker.
NEW Providencia Cigars!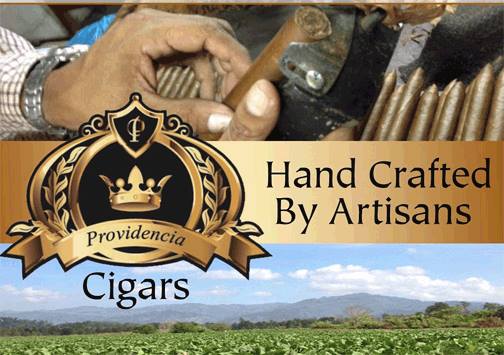 The Providencia Cigar Team is pleased to offer small batch cigars using the finest aged, ultra premium tobaccos from the Trojes Valley on the border of Honduras and Nicaragua.
With two initial cigar blends, Providencia Cigars can satisfy your need for a Medium or a Medium-Full bodied cigar!
Crowned Heads Yellow Rose, a Texas Exclusive Cigar!
Celebrate your true Texas spirit with the new Crowned Heads Yellow Rose made exclusively for Texas!
This beautiful, medium-full bodied box pressed torpedo boasts a beautiful Connecticut broadleaf wrapper and rich Nicaragua tobaccos in the binder and filler rolled at the My Father S.A.
The Yellow Rose will be made in small batches, so get yours today before the drought hits!!
La Flor Dominicana 1994
Commemorating Lito and Ines Gomez's 20th year in the cigar business, La Flor Dominicana has released the new 1994! The complex and powerful flavors of the 1994 originate from the best fillers and binder grown on our farm in the Dominican Republic and are complemented with a sweet and savory Mexican San Andrés wrapper.
Wrapper: Mexican San Andres
Binder: Dominican Republic (La Canela)
Filler: Dominican Republic (La Canela)
Now introducing: The AVO QUARTET – Cigars in perfect harmony.
The new AVO QUARTET is a special robusto assortment of 4 exceptional AVO Cigars for the price of 3.
The AVO QUARTET features one robusto in each of the following blends: AVO Heritage, AVO Signature, AVO Lounge Edition and
the new AVO "Mystery" Blend.
Royal Robusto: No fewer than 5 rare ligero tobaccos have been set aside and aged for several years to create this luxurious Robusto. Designed with only grand occasions in mind, the Royal Robusto opens with notes of cedar, then spices and wood and finally leaves you with hints of leather and perfumes.
Royal Salomones: A true masterpiece of a cigar, this promises to delight the smoker with an everchanging, building symphony of sensations. The Royal Salomones offers the lucky smoker a glorious combination of flavours and rich aromas. Thanks to the continuous change in diameter, the experience changes as time progresses. Beginning clean, defined and balanced, mild and smooth with wood, earth and floral honey, it builds in strength with a creamy finish towards the end.
Wrapper: Ecuador
Binder: Dominican Republic
Filler: Dominican Republic
La Flor Dominicana Chapter One
LFD Factory Press limitado
Illusione *R* Rothchildes
Wrapper: Mexican San Andrés
Binder: Nicaragua
Filler: Nicaragua
Size: 4 1/2 x 50
Shape: Robusto
Four Kicks by Crowned Heads
Wrapper: Habano Ecuador
Binder: Nicaraguan
Filler: Nicaraguan
Davidoff Nicaragua
Wrapper: Nicaragua (10-year-old Nicaraguan Havana-seed Rosado)
Binder: Nicaragua (Jalapa)
Filler: Nicaragua (Estelí, Condega and Ometepe)
Size: 3 3/4 Inches.
Ring Gauge: 46
Vitola: Short Corona/Robusto/Toro
JD Howard Reserve
Wrapper: Brazilian Arapiraca Maduro
Binder: Ecuadorian Sumatra
Filler: Nicaragua
Sizes:
HR46 (6 x 46)
HR50  (5 1/2 x 50)
HR52  (6 x 52)